韩国仁川大学:韩国人参抑制癌细胞扩散的机理:阻断缺氧诱导因子(HIF-1alpha)
Korean Red Ginseng extract reduces hypoxia-induced epithelial-mesenchymal transition by repressing NF-κB and ERK1/2 pathways in colon cancer
结直肠癌(CRC)是韩国男性中第二常见的癌症,女性中第三。此外,韩国的CRC发病率正以每年约6%的速度增加。值得注意的是,在新诊断的CRC中,有57%的CRC患者报告了转移状态,包括在新诊断的CRC中出现的区域淋巴结阳性。
由于细胞快速增殖需要高氧,CRC等实体肿瘤常含有缺氧区域,瘤内血管[结构和功能异常。瘤内缺氧诱导的低氧诱导因子HIF-1α一种蛋白质积累,缺氧诱导因子在在常氧条件下泛素-蛋白酶体系统存在下迅速降解。缺氧诱导因子在肿瘤进展中发挥着关键作用,治疗抵抗,侵袭性和转移.
在转移初期,癌细胞脱离主要肿瘤部位,迁移并侵入周围组织,即淋巴和血管。在上皮-间充质转化(EMT)过程中,上皮细胞失去细胞连接和极性,获得迁移和侵袭能力,显示间充质细胞表型。EMT是一种重要的细胞事件,使原发肿瘤中的恶性细胞侵袭其他组织并转移。重要的是,EMT主要由肿瘤缺氧引起。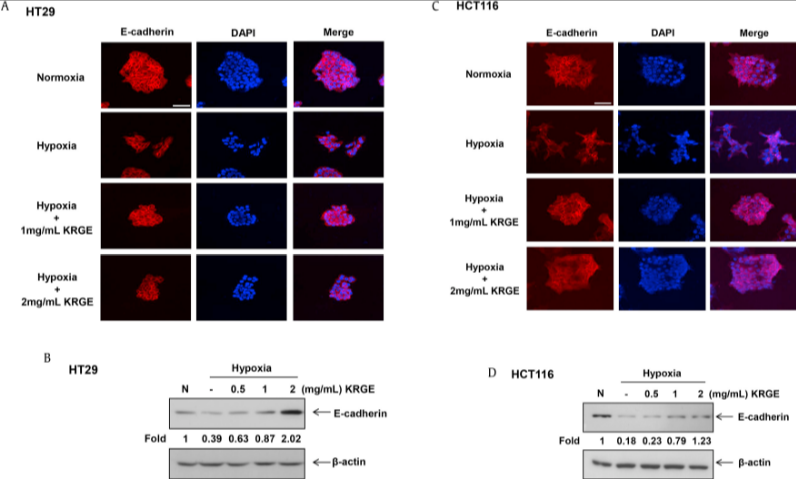 大韩红参(RG)是亚洲传统医学中常用的治疗多种疾病的人参。韩国三分之二的癌症患者服用膳食补充剂;其中50%的人曾服用RG产品。韩国RG提取液(KRGE)长期以来被用于滋补和修复。虽然KRGE的有益抗癌活性在体外和体内都有报道,但具体的抗肿瘤作用分子机制尚不清楚。
虽然少数研究报道了KRGE在CRC中抗转移作用的详细分子机制,但KRGE对CRC转移中EMT过程的影响尚不清楚。因此,本研究旨在评价KRGE对CRC细胞系缺氧诱导的EMT的影响。
对健康细胞的毒性常常限制化疗药物的临床应用。由于人参提取物等天然产物具有较好的抗癌活性,且毒性较低,因此阐明KRGE的抗癌作用具有重要意义。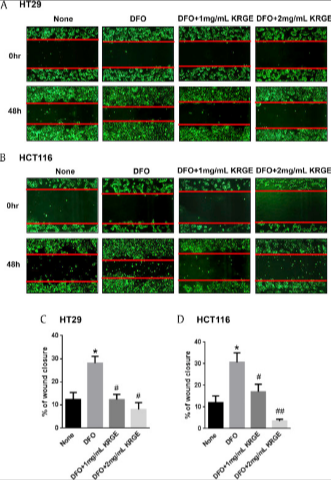 总之, 韩国红参提取液通过抑制NF-κB and ERK1/2 路径,抑制结直肠癌中缺氧诱导因子(HIF-1alpha )诱导的上皮-间充质转化(EMT),在治疗结直肠癌中可能有有益的作用。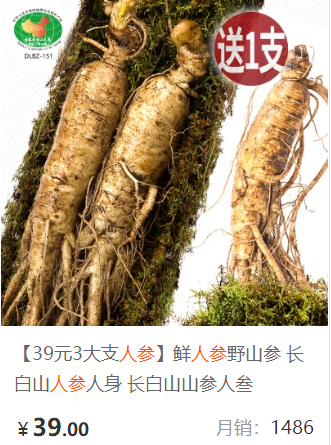 https://s.click.taobao.com/YmgeLNw
Korean Red Ginseng extract reduces hypoxia-induced epithelial-mesenchymal transition by repressing NF-κB and ERK1/2 pathways in colon cancer
Colorectal cancer (CRC) is the second most commonly diagnosed cancer in men and the third in women in South Korea [1]. Moreover, CRC incidence in South Korea is increasing at a rate of approximately 6% per year [1]. Notably, metastatic status, including locoregional node-positive at newly diagnosed CRC, has been reported in 57% of CRC patients [2].
Due to high oxygen requirements of rapid cell proliferation, solid tumors, such as CRC, often contain hypoxic regions and structurally and functionally unusual intratumoral blood vessels [3]. Intratumoral hypoxia induces the accumulation of hypoxia-inducible factor-1α (HIF-1α), a protein that is rapidly degraded by the ubiquitin-proteasome system under normoxic conditions [3, 4]. HIF-1α plays a key role in tumor progression, therapeutic resistance, invasiveness, and metastasis [5, 6, 7].
In the initial stages of metastasis, cancer cells separate from the main tumor sites, migrate, and invade the surrounding tissue, i.e. lymphatic and blood vessels. During the epithelial-mesenchymal transition (EMT), epithelial cells lose their cell-cell junctions and polarity, acquiring migratory and invasive abilities and displaying mesenchymal cell phenotype [8]. EMT is an important cellular event that enables malignant cells in the primary tumor to invade other tissues and metastasize [8, 9]. Importantly, EMT is mainly triggered by tumor hypoxia [7, 8].
Korean Red Ginseng (RG) (Panax ginseng Meyer) is commonly used in Asian traditional medicine to treat various diseases [10]. Two-thirds of cancer patients in Korea take dietary supplements; of these, 50% have reported taking an RG product [11, 12]. Korean RG extract (KRGE) has long been used in tonics and rejuvenation remedies [13]. Although beneficial anti-cancer activity of KRGE has been reported in vitro and in vivo, detailed molecular mechanisms of the anti-tumor effects are not well understood [14, 15, 16].
Although a few studies have reported detailed molecular mechanisms of anti-metastatic effects of KRGE in CRC, the effects of KRGE on the EMT process in CRC metastasis are unknown. Therefore, the aim of this study was to evaluate the effects of KRGE on hypoxia-induced EMT in CRC cell lines.
Toxicity to healthy cells often limits the clinical utility of chemotherapeutic agents. As natural products, such as ginseng extracts, may present anti-cancer activity with reduced toxicity, it is important to elucidate the anti-cancer effects of KRGE.
In conclusion, KRGE inhibits hypoxia-induced EMT by repressing the activation of NF-κB and ERK1/2 pathways in colon cancer cells and may be potentially beneficial in the treatment of colon cancer.
https://www.ginsengres.org/article/S1226-8453(16)30121-X/fulltext