癌细胞的重要特征:有氧糖酵解
Aerobic Glycolysis: Beyond Proliferation
William Jones1和Katiuscia Bianchi1 *
有氧糖酵解一词是由奥托·沃伯格在19世纪初提出的,用来解释肿瘤细胞所表现出的异常代谢。
Warburg注意到恶性细胞甚至在有氧的情况下也倾向于将葡萄糖转化为乳酸,这与健康/分化细胞的代谢不同,健康/分化细胞的葡萄糖通常转化为丙酮酸,只有在没有氧的情况下才转化为乳酸。
在无氧条件下葡萄糖转化为乳酸被称为无氧糖酵解,因此他将癌细胞的代谢定义为有氧糖酵解,以强调葡萄糖的命运不是由缺氧决定的(1)。
癌细胞代谢不同于正常细胞这一事实吸引了很多人的兴趣,因为这一特性可能促进肿瘤细胞的选择性靶向治疗。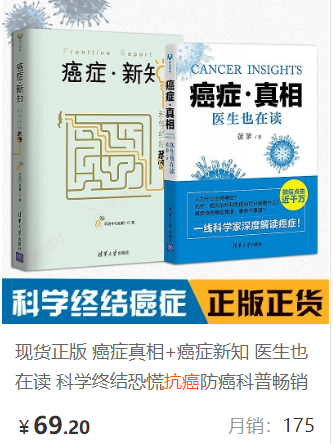 https://s.click.taobao.com/hYsTINw
Aerobic Glycolysis: Beyond Proliferation
William Jones1 and Katiuscia Bianchi1,*
The term aerobic glycolyis was coined by Otto Warburg at the beginning of the nineteenth century to explain the unconventional metabolism exhibited by tumor cells.
Warburg noticed that malignant cells prefer to convert glucose to lactate even in the presence of oxygen, in contrast to the metabolism of healthy/differentiated cells, where glucose is usually converted into pyruvate and only converted to lactate in the absence of oxygen.
The conversion of glucose to lactate in anaerobic conditions (absence of oxygen) was already known as anaerobic glycolysis and thus he defined the metabolism of cancer cells as aerobic glycolysis, to underline that the fate of glucose is not determined by the lack of oxygen (1).
The fact that cancer cell metabolism is different from that of normal cells attracted (and still does attract) a lot of interest, since this feature can potentially facilitate selective therapeutic targeting of tumor cells.
https://www.ncbi.nlm.nih.gov/pmc/articles/PMC4432802/