抗坏血酸钠 (维生素C钠)通过干扰铁吸收诱导神经母细胞瘤细胞凋亡
Sodium Ascorbate induces apoptosis in neuroblastoma cell lines by interfering with iron uptake
神经母细胞瘤(NB)是儿童的一种颅外实体瘤。尽管对一线治疗有良好的临床反应,但很少能完全根除NB细胞。因此,需要新的治疗策略来根除存活的NB细胞并防止复发。最近有报道称,抗坏血酸钠通过下调转铁蛋白受体CD71,诱导B16黑素瘤细胞凋亡。由于NB和黑色素瘤具有相同的胚胎神经外胚层来源,我们使用不同的人类NB细胞系来评估是否发生了同样的发现。
结果
我们可以观察到所有NB细胞系的剂量和时间依赖性细胞凋亡。抗坏血酸钠降低了CD71的表达,在24小时内导致细胞死亡。在整体和特定的caspase活性的增加,以及线粒体跨膜电位的早期丢失。此外,在暴露于抗坏血酸钠后,细胞内铁含量显著降低。当细胞用铁供体柠檬酸铁铵(FAC)预处理时,细胞凋亡标记物被还原,进一步证实了铁的消耗是NB细胞中抗坏血酸诱导的细胞死亡的原因。
结论
抗坏血酸钠对神经母细胞瘤细胞系具有很高的毒性,而维生素C诱导的细胞凋亡的具体机制是由于细胞内铁含量的扰乱而导致的转铁蛋白受体(TfR)-下调。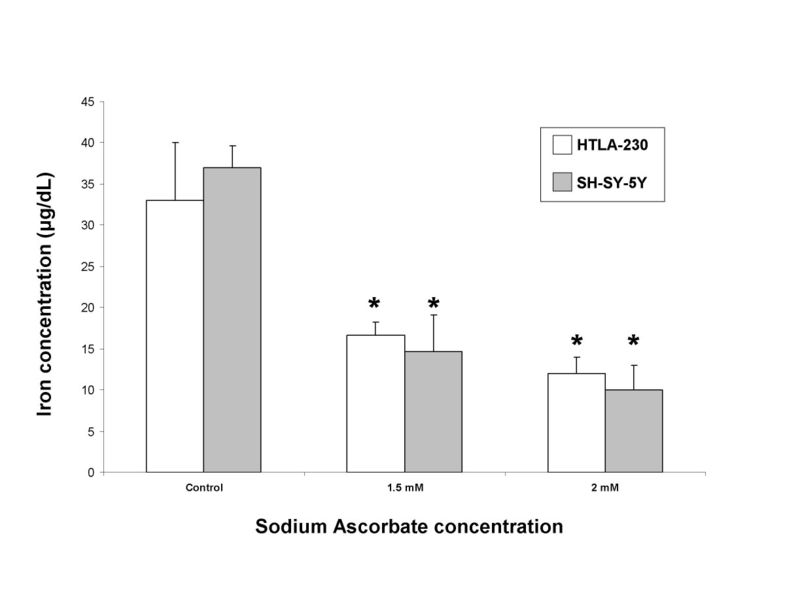 图示:
抗坏血酸钠对神经母细胞瘤细胞系具有很高的毒性在24小时内导致细胞死亡,其原理是抗坏血酸钠降低细胞内铁含量 Reduction of intracellular iron levels by sodium ascorbate.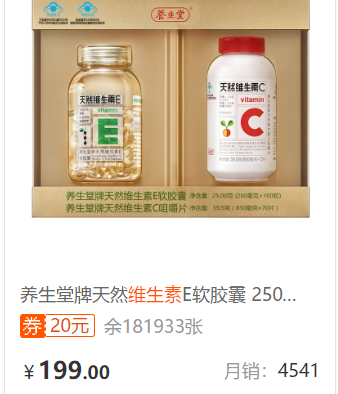 https://s.click.taobao.com/MuACULw
https://s.click.taobao.com/U7CCULw
参考文献
Sodium Ascorbate induces apoptosis in neuroblastoma cell lines by interfering with iron uptake
Roberta CarosioEmail author, Guendalina Zuccari, Isabella Orienti, Salvatore Mangraviti and Paolo G Montaldo
Molecular Cancer20076:55
https://doi.org/10.1186/1476-4598-6-55© Carosio et al; licensee BioMed Central Ltd. 2007
Received: 04 July 2007Accepted: 30 August 2007Published: 30 August 2007
Abstract
Background
Neuroblastoma (NB) is an extra-cranial solid tumour of childhood. In spite of the good clinical response to first-line therapy, complete eradication of NB cells is rarely achieved. Thus, new therapeutic strategies are needed to eradicate surviving NB cells and prevent relapse. Sodium ascorbate has been recently reported to induce apoptosis of B16 melanoma cells through down-regulation of the transferrin receptor, CD71. Since NB and melanoma share the same embryologic neuroectodermal origin, we used different human NB cell lines to assess whether the same findings occurred.
Results
We could observe dose- and time-dependent induction of apoptosis in all NB cell lines. Sodium ascorbate decreased the expression of CD71 and caused cell death within 24 h. An increase in the global and specific caspase activity took place, as well as an early loss of the mitochondrial transmembrane potential. Moreover, intracellular iron was significantly decreased after exposure to sodium ascorbate. Apoptotic markers were reverted when the cells were pretreated with the iron donor ferric ammonium citrate (FAC), further confirming that iron depletion is responsible for the ascorbate-induced cell death in NB cells.
Conclusion
Sodium ascorbate is highly toxic to neuroblastoma cell lines and the specific mechanism of vitamin C-induced apoptosis is due to a perturbation of intracellular iron levels ensuing TfR-downregulation.
Keywords
Mitochondrial Membrane PotentialTransferrin ReceptorNeuroblastoma Cell LineSodium AscorbateMitochondrial Transmembrane Potential
Background
Neuroblastoma is the most common solid extracranial tumor of childhood [1]. This tumor has long fascinated clinicians and biologists due to its enigmatic behaviour. Extreme clinical heterogeneity is seen, including spontaneous regression. Still, a large part of neuroblastoma patients have highly aggressive disease that is refractory to intensive therapies and ultimately fatal. Current therapy for high risk neuroblastoma has reached a near-maximally tolerable state that includes cytoreductive and myeloablative therapies, radiation, autologous or allogenic bone marrow transplant, retinoids and immunomodulators, among others [2].
https://molecular-cancer.biomedcentral.com/articles/10.1186/1476-4598-6-55