AXE博士:赖氨酸有抗癌作用
Dr.Axe: Lysine May Help in the Treatment of Cancer
赖氨酸是什么?
赖氨酸是一种重要的氨基酸。许多人都知道有几种氨基酸被称为"蛋白质的构建块",大量的内部功能,包括生长需要赖氨酸。
在自然界中发现的几百种氨基酸中,有20种是蛋白质生成和生长所必需的,而这20种氨基酸中只有10种是由人体产生的。剩下的10种被称为"必需"氨基酸,因为人类为了健康必须食用它们。氨基酸的缺乏会导致内部细胞的退化,从而导致巨大的问题,所以在你的饮食中摄取足够的氨基酸是很重要的。
必需氨基酸通常是立体异构体,这意味着它们以两种不同的形式存在,它们与镜像完全相同。这些氨基酸有D-和L-两种形式,L-形式用于蛋白质合成,因此在食物和补充剂中也有这种形式。
L-赖氨酸有很多令人难以置信的好处,从作为一种常见的治疗单纯疱疹的药物到潜在的抗焦虑补充剂。在补充形式中,大多数营养素都是正确的,L-赖氨酸可以口服,但在食用时被吸收到体内。它大量存在于各种肉类、豆类、奶酪和鸡蛋中。
特别地,L-赖氨酸在肉碱(L-CARNITINE)的产生中非常重要,它将脂肪酸转化为能量,并降低胆固醇水平。赖氨酸似乎也在吸收钙和帮助身体形成胶原的过程中发挥了作用,胶原有助于骨骼和结缔组织(包括皮肤)的生长和维持。
作为一种天然的抗病剂,L-赖氨酸在许多方面对人体有益,其中许多只是最近才进行的研究。
.可能有助于治疗癌症
许多科学家寻找天然癌症治疗方法的一个原因是,传统的治疗方法,如化疗和放疗,会对健康细胞和患病细胞产生负面影响。令人惊讶的是,最近在这一领域取得了巨大的进展,研究人员发现越来越多的方法,在我们的食物和自然界中发现的营养物质可能会做我们想做的事——瞄准恶性细胞而不杀死有益细胞。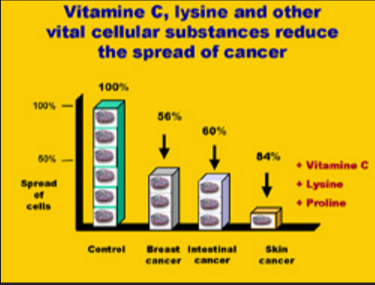 2007年,佛罗里达州立大学的科学家研究了"赖氨酸结合物"对受损DNA链的影响,就像在癌症中发现的那样。基本上,这种物质可以通过识别其中的"裂解"(一个受损的点)来定位受损的链,并导致链的其余部分分裂(撕裂)。细胞通常无法修复损伤,导致细胞凋亡,细胞死亡。

这种疗法最吸引人的地方在于它是如何与特定类型的光一起工作的。赖氨酸结合物的抗癌能力只在暴露在特定类型的光线下才会被激活,这使得研究人员和潜在的医生能够将治疗注射到最集中的癌细胞位置,并在最可能有效的部位激活它们。
进行这项研究的科学家们发现25%直到90%的癌细胞被破坏,这太令人震惊了!
2014年,我们对小鼠的结直肠癌进行了赖氨酸氧化酶试验。在本研究中,赖氨酸氧化酶的注入与零死亡和大量萎缩的实体肿瘤相关,预示着这可能是未来结肠直肠癌治疗的一种有希望的形式。
根据初步研究,与骨髓有关的癌症,如白血病,也可能与L-赖氨酸相匹配。在一项研究中,L-赖氨酸注射液有助于防止暴露于致癌物质的细胞中的基因毒性(DNA和RNA损伤)。
What Is L-Lysine?
L-lysine is an essential amino acid. Many people know that several amino acids are known as the "building blocks of protein" and are needed in order for a huge number of proper internal functions, including growth.
Of the few hundred amino acids found in nature, 20 are necessary for protein creation and growth, and only 10 of those 20 can be produced by the body. The remaining 10 are known as "essential" amino acids because humans must consume them for proper health. Amino acid deficiencies cause a degradation of internal cells and can lead to huge problems, so it's important to get enough of them in your diet.
Essential amino acids are most often stereoisomers, meaning they exist in two variations that are identical to one another as mirror images. There are both D- and L- forms of these amino acids, and the L- form is used in protein synthesis and therefore the form found in food and supplements. Because of this, most people simply refer to this nutrient as "lysine" for short.
There are many incredible L-lysine benefits, from its use as a common treatment for cold sores to a potential anti-anxiety supplement. As is true with most nutrients available in supplement form, L-lysine can be taken orally but is absorbed best into the body when consumed through food. It's found in large amounts in various kinds of meat, beans, cheeses and eggs.
Specifically, L-lysine is very important in the creation of carnitine, which converts fatty acids into energy and also lowers cholesterol levels. L-lysine also seems to play a role in absorbing calcium and helps the body form collagen, which aids in the growth and maintenance of bones and connective tissue (including skin). (1)
As a natural disease-fighting agent, L-lysine benefits the human body in a variety of ways, many of which are only recently undergoing research.
May Help in the Treatment of Cancer
One reason many scientists search for natural cancer treatments has to do with the way conventional treatments, like chemotherapy and radiation, negatively impact healthy cells along with diseased ones. Amazingly, there have been huge strides recently in this area, as researchers discover more and more ways that nutrients found in our food and in nature may potentially do just what we desire — target malignant cells without killing good ones.
In 2007, scientists at Florida State University studied the effects of "lysine conjugates" on damaged strands of DNA, like the ones found in cancer. Basically, this substance can locate a damaged strand by identifying "cleavage" in it (a damaged spot) and cause the rest of the strand to cleave (tear apart) as well. The cell is usually unable to repair this damage, leading to apoptosis, the suicidal death of cells.
What's most fascinating about the potential of this treatment is how it works alongside specific types of light. The cancer-killing ability of lysine conjugates are only activated when exposed to particular types of light, which allows researchers, and potentially doctors, to inject or place the treatment into the most concentrated location of cancer cells and activate them at their most potentially effective spots.
The scientists conducting the study found results ranging from 25 percent all the way to 90 percent of destroyed cancer cells, which is astounding! (4)
A lysine oxidase was tested against instances of colorectal cancer in mice in 2014. In this study, the injection of lysine oxidase was associated with zero deaths and shrunk solid tumors in significant amounts, signifying this may be a promising form of cancer treatment for colorectal cancer in the future. (5)
Cancers related to the bone marrow, such as leukemia, may also meet their match with L-lysine, according to preliminary research. In one study, L-lysine injection helped prevent genotoxicity (DNA and RNA damage) in cells exposed to a cancer-causing substance. (6)
The cardiac miracle cure? Vitamin C, lysine and Dr. W. Gifford-Jones | The Ethical Nag https://ethicalnag.org/2014/02/14/w-gifford-jones-vitamin-c-lysine/